Welcome To Charlie's!
We will provide you with a positive "WOW" experience. Guaranteeing trust and honesty.  Maintaining a high level of quality.  Doing whatever it takes to satisfy customers.  Putting the customer first. 
Creating a family environment.  Exceeding the customer's expectations.                             
Charlie's Auto Collision Repair is committed to providing the highest quality repairs, as well as educating our customers on the repair process. We achieve this by: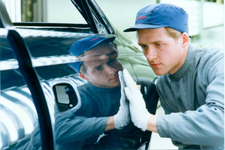 Educating our staff on the proper repair procedures.

Using the latest equipment and technology in an ever changing industry to assure proper repairs.

Having the highest standard for customer satisfaction through working closely with our customers.

Earning our customers trust and working hard to keep it is our ultimate goal.
Our Gorgeous Palm Trees are waving greetings to you with their huge green branches and brown coconuts. 


HONESTY BACKED WITH INTEGRITY, KNOWLEDGE, SKILL AND DEDICATION TO OUR CLIENTS